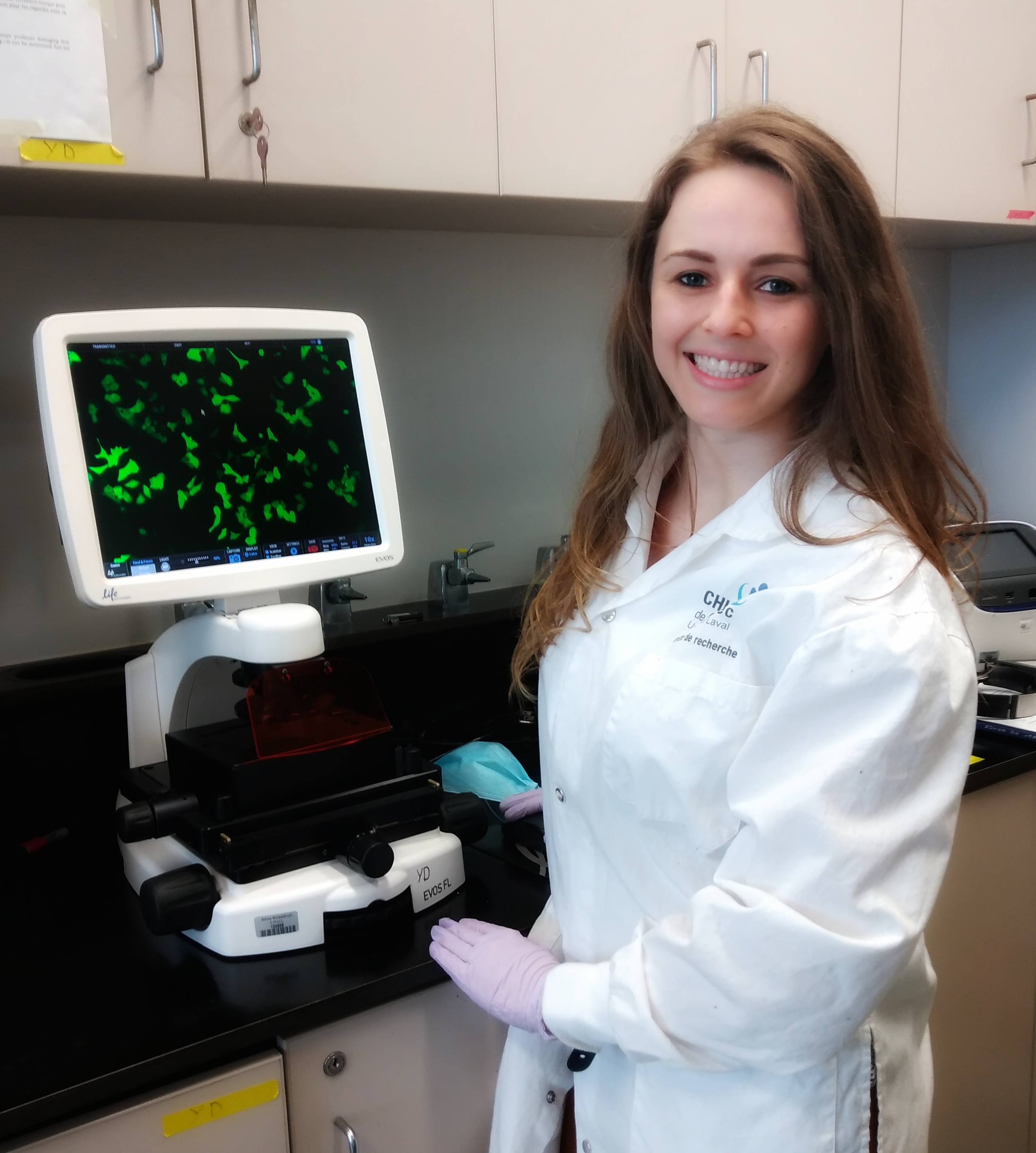 Étudiante au doctorat
(1) Axe reproduction, santé de la mère et de l'enfant, Centre Hospitalier Universitaire de Québec — Université Laval
(2) Département d'obstétrique, gynécologie et reproduction, Faculté de médecine
: PhD
---
:
Mechanism of action of the MEF2 transcription factors in Leydig cell gene expression and function

---
---
---
Centre de recherche du CHU de Québec (CHUL)
2705 boul. Laurier
Bloc T, Local T3-74-11
Québec (QC) Canada
G1V 4G2
---
418 525-4444
karine.mattos.1@ulaval.ca
Study level
PhD
Master in Animal Science: Universidade Federal do Rio Grande do Sul (Porto Alegre, Brasil)
Bachelor degree: Veterinary Medicine, Universidade Federal do Pampa (Uruguaiana, Brasil)

---
RÉSUMÉ DU PROJET DE RECHERCHE
Testicular Leydig cells produce INSL3 and testosterone. Although the signals and intracellular pathways controlling hormone synthesis in Leydig cells have been well characterized, the transcription factors downstream of these pathways remain poorly understood. We have detected MEF2 family of transcription factors exclusively in the male gonad (Leydig and Sertoli cells) from early gonadal development throughout adult life. We also have identified several genes that are deregulated in Leydig cells depleted MEF2. Our hypothesis is that MEF2 factors contribute to Leydig cell gene expression and function by cooperating with other transcription factors, forming a combinatorial code unique to Leydig cells. Our objective is to characterize the molecular targets and partners of MEF2 factors in Leydig cell gene expression and function. Two specific objectives are proposed: 1) To determine the precise map of binding sites for MEF2 factors in the genome of Leydig cells, clarifying the gene regulatory network that underlies Leydig cell function. 2) To identify MEF2-interacting partners to define the mechanism of MEF2 action in the regulation of gene expression in Leydig cells.
This project will help to elucidate the mechanism of action of MEF2 and its roles in hormone synthesis by Leydig cells. Not only will this provide invaluable information on the regulation of Leydig cell function but it may also provide novel insights into disorders of sexual development, infertilities, and other Leydig cell related dysfunctions in humans. Finally, the knowledge gained during this project will contribute to the prevention, development of molecular diagnostics, and treatment of testicular disorders.
---